Kartik Aaryan and Kriti Sanon are gearing up for their next theatrical release, Shehzada, which releases on the 17th of February, 2023. The film marks the return of Kartik Aaryan on the big screen after Bhool Bhulaiyaa 2, which was a huge blockbuster at the box office, ending as the fourth highest grosser of the year and the second biggest hit in terms of return on investments. Kriti Sanon returns to the big screens after an acclaimed concept film, Bhediya. Shehzada marks Kartik Aaryan and Kriti Sanon's second collaboration after Luka Chuppi, which was a runaway hit at the box office. The two graced Pinkvilla with an interview of theirs, prior to the release of their film.
In an exclusive interview with Himesh Mankad from Pinkvilla, the duo answered many questions to do with their film, their career and their future slate of movie releases. Shehzada is quite a special film for Kartik Aaryan as it marks the entry of the actor as a producer. Due to a few troubles through the making of the film, the production budget of the film started to soar. In such a case, to not compromise on the quality of the film, Kartik Aaryan turned a co-producer on the film.
Kartik Aaryan Has Turned A Co-Producer With Shehzada
On being asked about how the actor got the conviction to turn a co-producer on the film at such a young age and rise up to the occasion, he said, "I am all in for the film. When certain issues, not related to our world were happening, they needed someone to stand up and that's what I did. They suggested me to become a producer with this film and that was it. I am still looking at this film as an actor mostly because majority of my work as a producer is being done by all the producers. So my lookout is entirely on acting and now promoting it. My job is to make the film reach wider. So that's going on. But I understand that when a name or credit comes, you also get a share of it and I'm also learning how work happens in this world and how I can balance between acting and co-producing."
Kartik Aaryan Will Continue To Co-Produce Films After Shehzada
When Kartik was asked if he planned on producing films in the future, he said yes and supported it by saying that the reason behind co-producing Shehzada was so that he could get a knack of it and do it for the other films that he acts in.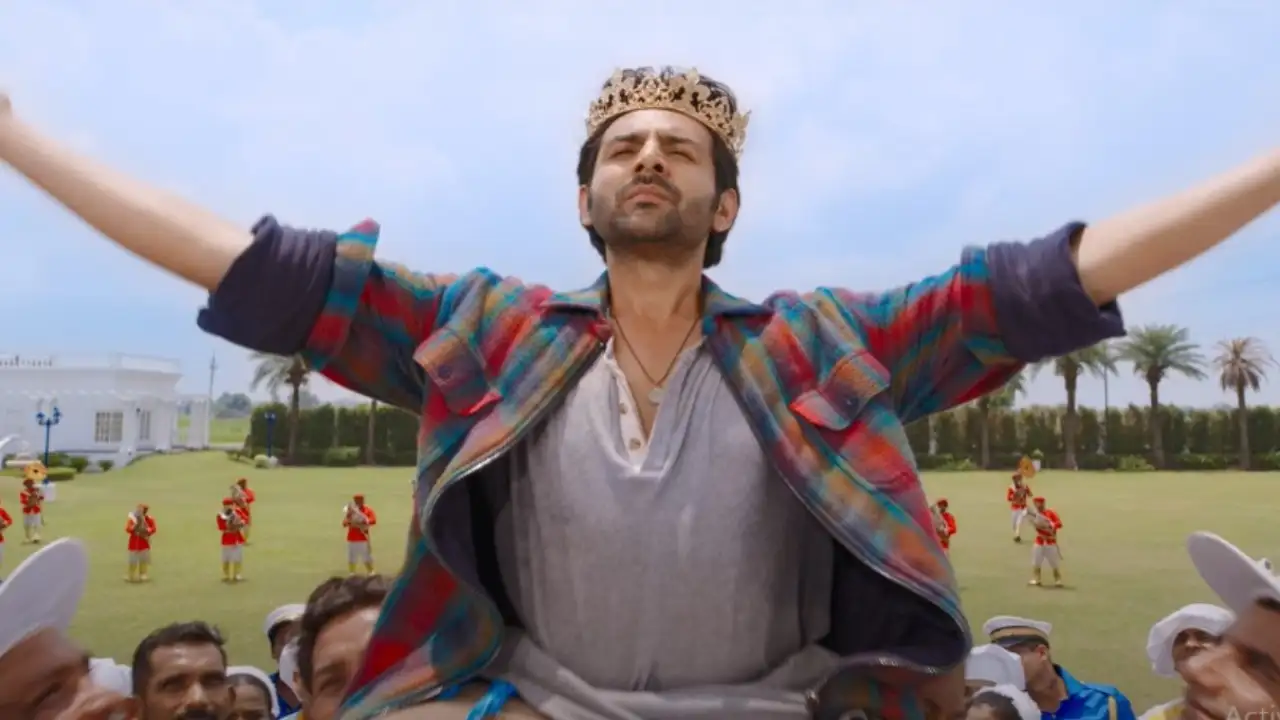 Shehzada is a mass family entertainer and will be thriving on support from the masses. The film is projected to open at around Rs 7 crores but a lot depends on the walk-in audiences. The film is expected to sell around 25,000-30,000 tickets in the three national multiplex chains before its release which also indicates that the opening will be in the range of around Rs. 7 crores. The film will be releasing alongside the Marvel film Ant-Man and the Wasp: Quantumania. Pre-bookings for Shehzada are now open. You can watch the film at a theatre near you
ALSO READ: EXCLUSIVE VIDEO: Shehzada duo Kartik Aaryan-Kriti Sanon reveal their secret to deal with failures
#Kartik #Aaryan #turning #producer #Shehzada #film #needed #stand